For few days I'm in a strange mood - trying to make supply for an
my etsy shop
and having so little time to do it. So it's still empty! I regret I'm rather a lausy graphic designer to make a
simple and beautiful
banner. And when I'm sleepless at night I'm looking for something new among my favourite blogs to cheer me up (take a look at my blogroll). The more I search the more I find interesting finds and the more I think that blogs of crafting people are the world themselseves. And lots of crafters love to describe their lifes - so I like reading those blogs more than any others: they are frankly without too much effusiveness, they are sweet without too much sweetness and they are - just about life! Great! Well, maybe it's not a very profound thought, but I like blogs and bloggin' more each day.
So this funny toy I found at
Rosa Pomar's
site and she did find it at
This Next
site. I'm all for slings, (those made by Rosa herself are beautiful), but not for the bottle - breastfeeding rules :) . On the other hand, I can not imagine breastfeeding toy... This toy is fashionista, I must say - slings are so in fashion now! When Ada was smaller I carrier her in a sling myself and still remember a funny situation - an old lady in the park seeing me with a newborn in a sling, offered to buy me a prom! I'm sure she had though miserable of me, hahahah. To end advertising slings - it's a perfect for breastfeeding also.
So, that's it. Let's back to toys.
But innovative toys are perfect for children of any age, and I found this "Let's Play Mail" at
I'm Still Me
site, while searching exhibitors of
Bubble Press
(I used to like it more, currently there is no so many toy makers exhibiting there). As authors describe this toy: "
Provides hours of pretend play which encourages self-expression, and reading and writing readiness. Send pretend mail, postcards or parcels to Mom, Dad, kitty, doggie, boy/girl/brother/sister. Stamps, messages, etc. stick to mail pieces with easy to use Velcro for years of fun and learning".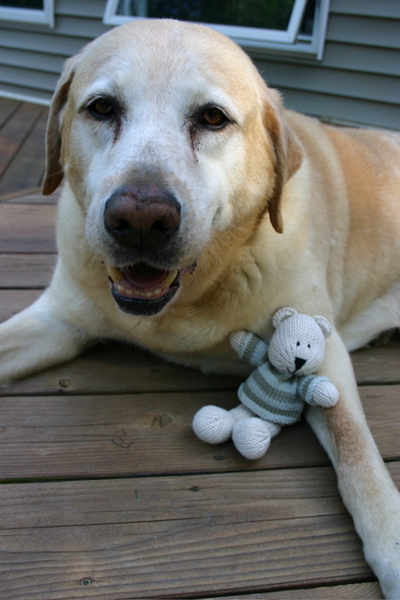 Toys have their independent life, I suppose looking at the photos that softies makers do. We all know they do have. Like
littlecottonrabbits
rabbits, for instance.
Or monstrous monsters you can see among nifty stuff handmade by vozz - which means
fishcakes
. Monsters seem to be
favorites
of her creativity and creations: in this cozies
some small decorations
or even they can be a theme of bento box for her prescholer:
On her site you can see more monsters - I like the features of
this monster
- grumpy face, rosy cheaks and these beautiful horns make him very special.
Jennifer Murphy Bears
moved her shop to
ebay
now, but she still makes gorgeous jointed bears in precise outfits. They are not children toys for sure for their safety eyes, tiny pieces, mohair furs and joints, but who wouldn't want such a sweet face?
And I like some banners - actually I could not choose which one is my favourite. They are all very special. Most of them are saved in .gif propably so I could not upload them here, but some - lucky for me - were not.
I like
Marisa Maia's
for showing the content of her blog and her sweet toys all at once
So
Marylin Patrizio
-
her crochet creatures
are great and I like her stuff very much. I hope she won't mind me mentioning about her here.
Or
Claire Robertson
with her sweet toys and illustrations. I don't know what I like more - the illustrations or the toys.
I've noticed I love banners with an sketch of the author and his (or rather her) creations. Like those girls above. On one of my previous blog banners (I had few already: banners, not blogs) I put this
But I decided to put my little girl among the softies - instead of me. And even now it's changed. Of course, some day I will improve my little banner here, but - just some day! Being full-time mother is more than full-time job!